eps-Überweisung
Introduction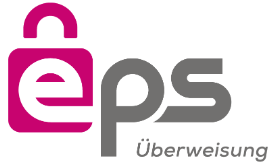 eps-Überweisung (electronic payment standard) is an online payment method provided to consumers of Austrian banks. eps-Überweisung utilizes the established online banking systems of nearly all Austrian banks. eps-Überweisung is one of the most popular payment methods for online shopping in Austria.
The eps e-payment standard is the interface to online payment systems for irrevocable payments, adopted by online shops as well as public authorities like E-Government.
Selecting a bank in merchant's web store, the consumer is redirected from merchant's web store to their bank's online banking window.
If no bank is selected in the merchant's web store, the bank selection is done during redirect and consumer is redirected to their bank's online banking window after selecting a bank from SO (Scheme Operator, central routing instance for eps-Überweisung) bank list.
Successfully logging on to their respective account using their account number and PIN, the buyer simply needs to confirm the transaction using a TAN.
After the consumer confirmed the payment via TAN (or other usual used approval mechanism within the internet banking), eps confirms the payment sending payment result and details to the PSP system.
Consumer clicks "Back to shop" link in online banking window and is redirected back to merchant's web shop.
General Information
Payment Mode, Countries and Currencies
This table illustrates which payment mode eps-Überweisung belongs to. It also provides detailed information about the countries and currencies which are relevant for eps-Überweisung.
| | |
| --- | --- |
| Payment Mode | |
| Countries | AT, DE (giropay interoperability) |
| Currencies | EUR |
Communication Formats
This table illustrates how eps-Überweisung notifications are encoded and which formats and methods can be used for requests and responses.
Requests/Responses

Format

XML

Methods

POST

IPN Encodement

Base64
Transactions
Transaction Types
| Transaction Type | Description | Link to samples |
| --- | --- | --- |
| get-url | Initiation of a transaction triggering the redirect of the consumer to the eps system. | See get-url samples |
| debit | Created during payment processing and finalized after consumer TAN confirmation/cancel etc. using eps system payment confirmation. | See debit samples |
Restrictions
| | |
| --- | --- |
| | When using eps-Überweisung, some banks do not transmit consumer data (e.g. account details) to Wirecard Payment Gateway. As these fields are mandatory for a refund (e.g. via SEPA Credit Transfer), the merchant is obliged to provide the consumer data to guarantee a successful refund. |
Test Credentials
URLs (Endpoints)

For transaction type get-url

https://api-test.wirecard.com/engine/rest/paymentmethods/

Merchant Account ID (MAID)

1f629760-1a66-4f83-a6b4-6a35620b4a6d

Username

16390-testing

Password

3!3013=D3fD8X7
Additional Test Credentials on eps-Überweisung Environment

Ärzte- und Apotheker Bank

BIC

BWFBATW1XXX

Login Data

Just click to continue - no input needed.

or

Stuzza Bank

BIC

STUZZATWXXX

Login Data

Please contact merchant support for complete test credentials.
Workflow
debit
| | |
| --- | --- |
| | The merchant sends a get-url request to Wirecard and receives a response which contains either the URL of the consumers online banking system (if BIC is provided in the request) or the eps bank selection page, to which the consumer must be redirected. The consumer is redirected back to merchants shop after the transaction is approved and the merchant receives a debit payment notification from Wirecard Payment Gateway. |
Consumer adds items to their shopping basket.

Consumer selects eps-Überweisung.

The merchant sends a get-url request to Wirecard Payment Gateway.

Wirecard Payment Gateway processes and validates the transaction.

Wirecard Payment Gateway forwards the request to eps-Überweisung.

eps-Überweisung provides the URL of the consumer's online banking account for payment verification.

Wirecard Payment Gateway processes the response.

Wirecard Payment Gateway redirects the consumer to the provided online banking URL.

Consumer verifies the payment within the personal online banking system.

eps-Überweisung transfers funds from the consumer's bank account to the merchant's bank account.

eps-Überweisung sends a payment notification to the Wirecard Payment Gateway.

Wirecard Payment Gateway processes the notification and sends the payment debit notification to the merchant.

The merchant receives the notification with the payment result.
eps-Überweisung & giropay
SO implemented interlink to eps-giropay scheme in Germany. If the merchant's contract allows to process those interoperability transactions, all eps-giropay participating banks in Germany can also be reached with a technical eps-Überweisung transaction.
Supporting banks can be chosen by the consumer during bank selection on the SO bank selection page.
Shop does not support bank selection, only the SO bank selection is supported for giropay banks.

Max. 10.000 EUR guaranteed for single payment initiation (amount can be higher than 10.000 EUR).

Remittance identifier limited to 35 characters for structured purpose or 140 characters for unstructured purpose (See field descriptor).
Retrieve Payment Details
Since eps-Überweisung is an asynchronous payment method, the consumers payment data is provided asynchronously via a server 2 server notification from eps system.
To retrieve buyers detail payment data the merchant must query payment data after receiving a debit notification or the redirect of the consumer back to the shop system from eps/online banking system.
The debit payment returned as query result will contain consumer's payment details such as
account holder data

buyer's bank account data
The data is included only if the consumer's bank provided the data in the final bank notification for successful payment. It is not mandatory for banks to send this data.
Therefore, it is required to process a payment query using WPG Rest interface after the shop system received a debit payment notification or the consumer has been redirected to the shop.
Fields
The fields used for eps-Überweisung requests, responses and notifications are the same as the ReST API Fields. Please refer to the REST API field list. Only the fields listed below have different properties, especially according to size.
The following elements are mandatory (M), optional (O) or conditional (C) for a request/response/notification. If the respective cell is empty, the field is disregarded or not sent.
| Field | Cardinality | Data Type | Size | Description |
| --- | --- | --- | --- | --- |
| descriptor | O | xs:string | 140 | The remittance identifier. Limit of 35 characters for structured purpose or 140 characters for unstructured purpose. Applied only if not already configured during merchant setup. Supports only limited character set: a b c d e f g h i j k l m n o p q r s t u v w x y z A B C D E F G H I J K L M N O P Q R S T U V W X Y Z 0 1 2 3 4 5 6 7 8 9 - € $ § % ! = # ~ ; + / ? : ( ) . , ' & > < " * { } [ ] @ \ _ ° ^ | Ä Ö Ü ä ö ü ß Space |
Samples
eps-Überweisung returns coded payment method URLs in the response!
When you perform a test transaction, the <payment-method url> that is returned in the XML Response is encoded and cannot be used directly. You must decode the URL first to link to the correct page. You can use any tool that decodes URLs. Maybe you want to try Coder's Toolbox, available at: https://coderstoolbox.net/string/#!encoding=xml&action=decode&charset=us_ascii
get-url with Bank Selection in Merchant Shop
Successful Request/Response and Notification
XML get-url Request (Successful)
<?xml version="1.0" encoding="utf-8" standalone="yes"?>
<payment xmlns="http://www.elastic-payments.com/schema/payment">
    <merchant-account-id>1f629760-1a66-4f83-a6b4-6a35620b4a6d</merchant-account-id>
    <request-id>e1b97aff-ae9a-4fa1-902c-cf77ba8d42b0</request-id>
    <transaction-type>get-url</transaction-type>
    <requested-amount currency="EUR">1.99</requested-amount>
    <payment-methods>
        <payment-method name="eps" />
    </payment-methods>
    <ip-address>10.10.245.94</ip-address>
    <bank-account>
        <bic>BWFBATW1XXX</bic>
    </bank-account>
    <notifications>
        <notification url="https://www.yourshop.at/notifications?REQUESTID=${unique for each request}"/>
    </notifications>
 <cancel-redirect-url>https://demoshop-test.wirecard.com/demoshop/#/cancel</cancel-redirect-url>
 <success-redirect-url>https://demoshop-test.wirecard.com/demoshop/#/success</success-redirect-url>
 <fail-redirect-url>https://demoshop-test.wirecard.com/demoshop/#/error</fail-redirect-url>
    <processing-redirect-url>https://sandbox-engine.thesolution.com/shop/processing.html</processing-redirect-url>
</payment>
XML get-url Response (Successful)
<?xml version="1.0" encoding="utf-8" standalone="yes"?>
<payment xmlns="http://www.elastic-payments.com/schema/payment" xmlns:ns2="http://www.elastic-payments.com/schema/epa/transaction">
  <merchant-account-id>1f629760-1a66-4f83-a6b4-6a35620b4a6d</merchant-account-id>
  <transaction-id>06a0802a-b8c6-416f-8ef9-38f018249e6f</transaction-id>
  <request-id>e1b97aff-ae9a-4fa1-902c-cf77ba8d42b0</request-id>
  <transaction-type>get-url</transaction-type>
  <transaction-state>success</transaction-state>
  <completion-time-stamp>2018-05-29T10:43:34.000Z</completion-time-stamp>
  <statuses>
    <status code="201.0000" description="The resource was successfully created." severity="information" />
  </statuses>
  <requested-amount currency="EUR">1.99</requested-amount>
  <ip-address>10.10.245.94</ip-address>
  <notifications>
    <notification url="https://www.yourshop.at/notifications?REQUESTID=${unique for each request}"/>
  </notifications>
  <payment-methods>
    <payment-method url="https://www.banking.co.at/appl/ebp/logout/so/loginPrepare/eps.html?resource=93&amp;demo=true&amp;cai=%2BHJZzHQsnOsTvOQB4NGO2ZdynZnjeHAYoKMckVWetFzZ*aitpauMmMRh*FPQsSGNuLUK3VoY-" name="eps" />
  </payment-methods>
  <bank-account>
    <bic>BWFBATW1XXX</bic>
  </bank-account>
  <processing-redirect-url>https://sandbox-engine.thesolution.com/shop/processing.html</processing-redirect-url>
  <cancel-redirect-url>https://demoshop-test.wirecard.com/demoshop/#/cancel</cancel-redirect-url>
  <fail-redirect-url>https://demoshop-test.wirecard.com/demoshop/#/error</fail-redirect-url>
  <success-redirect-url>https://demoshop-test.wirecard.com/demoshop/#/success</success-redirect-url>
</payment>
XML debit Notification (Successful)
<?xml version="1.0" encoding="UTF-8"?>
<payment xmlns="http://www.elastic-payments.com/schema/payment" xmlns:ns2="http://www.elastic-payments.com/schema/epa/transaction">
 <merchant-account-id>1f629760-1a66-4f83-a6b4-6a35620b4a6d</merchant-account-id>
 <transaction-id>03685043-2db2-4f9b-a672-925ce7243e91</transaction-id>
 <request-id>e1b97aff-ae9a-4fa1-902c-cf77ba8d42b0</request-id>
 <transaction-type>debit</transaction-type>
 <transaction-state>success</transaction-state>
 <completion-time-stamp>2018-05-29T10:44:10.000Z</completion-time-stamp>
 <statuses>
  <status code="201.0000" description="eps:The resource was successfully created." severity="information"/>
 </statuses>
 <requested-amount currency="EUR">1.99</requested-amount>
 <parent-transaction-id>06a0802a-b8c6-416f-8ef9-38f018249e6f</parent-transaction-id>
 <ip-address>10.10.245.94</ip-address>
 <notifications>
  <notification url="https://www.yourshop.at/notifications?REQUESTID=${unique for each request}"/>
 </notifications>
 <payment-methods>
  <payment-method name="eps"/>
 </payment-methods>
 <api-id>---</api-id>
 <Signature xmlns="http://www.w3.org/2000/09/xmldsig#">
  <SignedInfo>
   <CanonicalizationMethod Algorithm="http://www.w3.org/TR/2001/REC-xml-c14n-20010315"/>
   <SignatureMethod Algorithm="http://www.w3.org/2001/04/xmldsig-more#rsa-sha256"/>
   <Reference URI="">
    <Transforms>
     <Transform Algorithm="http://www.w3.org/2000/09/xmldsig#enveloped-signature"/>
    </Transforms>
    <DigestMethod Algorithm="http://www.w3.org/2001/04/xmlenc#sha256"/>
    <DigestValue>WhX5jfAGGWe/nZ71O2ivl7tGrIKHLKlHN5HHy5UObDs=</DigestValue>
   </Reference>
  </SignedInfo>
  <SignatureValue>Qd7xMPndqS+r6NY4zF/09Dn3bZXeeeZptLLmQvmFMXsmwXXDrKedRK31ipBRuNFhq2UXy7CopCD/T45RNOW0qIPp7XjN4juCbPK8TKDZFey4DVbjoLI/Q3mq0nalaoxP9t99/J4th3T8h+KNQIWCvmRz0dF4UUVvVmUaysaqEt7xT5nm3c73jpA5NkPRA1sX0Y0Q70Qdy6jIPjphRhYGgtnUM6Vr1bn0uwkiiCAfN19EcTCdmz5LtW9FQv1ra6vcIwEIiG1r/iym/M3DsF4BBtthAEbL1B4Y5to0OrVdGh1AEaojJ90vYd60FMOtqobs+j4G0CRutgZ5NtwlGcL70Xu7WEWWw76OcQexvXah5i1WgtvFYIcWMyLm0YNe1a7FjVeA5Wyzo2cR3n3ph8VFg3NpeH+oDnx1Ps2NvIspxBZ+DzalBcFeQWJmpOMlQ3oqWlt7YxyeiqDjPmGzsPB892MqjS/QqDGwfZzvX3u/SyPnOoDF7Si9s188zreHnjj+NlZY1i1B1sEFJ56104qJbQdt+O6s1QqLj6vKs26VrV477lNGhgDOEKkf1TQFMxr5kDHbp0wZ+nrpskIt+A6dnY0oH7dXs+uAK6BRK++T22gOdexI8/iJsXYSDdrws07N3Uxxq1mah8JbFCYNhUQLB6hxTGyKb/s+wj34Vo9O1V0=</SignatureValue>
  <KeyInfo>
   <X509Data>
    <X509SubjectName>L=Ascheim,2.5.4.4=#130642617965726e,CN=api-test.wirecard.com,OU=Operations,O=Wirecard Technologies GmbH,C=DE</X509SubjectName>
<X509Certificate>MIIF5DCCBMygAwIBAgICLHQwDQYJKoZIhvcNAQELBQAwWzELMAkGA1UEBhMCREUxETAPBgNVBAoTCFdpcmVjYXJkMTkwNwYDVQQDFDB3aXJlY2FyZC1EUS1NVUMtaW50ZXJuYWwtd2Vic2VydmljZS1pc3N1aW5nQ0FfMDIwHhcNMTcwMTEyMTM1OTI2WhcNMTkwMTEyMTM1OTI2WjCBijELMAkGA1UEBhMCREUxIzAhBgNVBAoTGldpcmVjYXJkIFRlY2hub2xvZ2llcyBHbWJIMRMwEQYDVQQLEwpPcGVyYXRpb25zMR4wHAYDVQQDExVhcGktdGVzdC53aXJlY2FyZC5jb20xDzANBgNVBAQTBkJheWVybjEQMA4GA1UEBxMHQXNjaGVpbTCCAiIwDQYJKoZIhvcNAQEBBQADggIPADCCAgoCggIBAKSkExBY8FjRcZdrxOuJF+HZY8+McQaOB8B0E/hTUhoclsF4OJNaMThje7R6w6OYWBMKpssGngHFaZv35rCo5XVUpJmjZa04ytxE72GKO/uP4yIR7ZBXZx42B22MFaJJZTgPRCCFd6jrz906BZ//CmEAmk5gKelfPxfWJgGyTX6xz7I9R/G57E1xNOuEihN0ma5Q2IhD71MPVseFIGazyfGbJD6rYYbeBbOQSGk//TL8sdRCn0BLcm4DH5oqcPxDKzkaBP4ohNkCWsxpLLSyV6Wx0ihT0S1OLVNkEeTvcrYgUk124VyGatwWNUuCBYyOGQSOGqrW8IHmrhjzzT0NQog0/m38lpdqw/eWmt39qhODqSfILUk2Dxv1+W0IRKJCKcJrcTbXEQCuHl+XWY+U2AhinIPNRA0KX2oOgC//inwyKWSGWHdQnaake646R1wHqtoEfCtEcfyaeR+IrMr1rCAA3RZ+MH1J5UlUCWcnxPT0kad6dUwe3Qjq3jK4gaFzYU2yVScX5LVZMlWy2NiGCIvngHQmhArESzxMVvz5METZujfax6hfmiLNRWu0Zqs09Mpxy5zk5m/WRi5izb0uBeCfcA6x9pmjMx8M4OGG5RO2HTXSwLYJTKI47VXNsLLOY+nMFmhj/dkLJ5d3zI7EczToPMRHmHG7EqEdAfbb+oUlAgMBAAGjggGAMIIBfDARBgNVHQ4ECgQIS6wVIA0mJ9IwEwYDVR0jBAwwCoAIQ2weFtQ9BQ4wCwYDVR0PBAQDAgTwMIIBQwYDVR0fBIIBOjCCATYwggEyoIIBLqCCASqGgdVsZGFwOi8vd2lyZWNhcmQubGFuL0NOPXdpcmVjYXJkLURRLU1VQy1pbnRlcm5hbC13ZWJzZXJ2aWNlLWlzc3VpbmdDQV8wMixDTj1DRFAsQ049UHVibGljIEtleSBTZXJ2aWNlcyxDTj1TZXJ2aWNlcyxDTj1Db25maWd1cmF0aW9uLGRjPXdpcmVjYXJkLGRjPWxhbj9jZXJ0aWZpY2F0ZVJldm9jYXRpb25MaXN0P2Jhc2U/b2JqZWN0Q2xhc3M9Q1JMRGlzdHJpYnV0aW9uUG9pbnSGUGh0dHA6Ly9jcmwud2lyZWNhcmQubGFuL0NSTF93aXJlY2FyZC1EUS1NVUMtaW50ZXJuYWwtd2Vic2VydmljZS1pc3N1aW5nQ0FfMDIuY3JsMA0GCSqGSIb3DQEBCwUAA4IBAQAmlUoiEFPRsOjGPb7SYiuJLxqTXCvZQeuXiUydF6FQl/zIpR/zSltaZKK86L+1i7t1C89OyTTXBD9FN6EKmlHo/ulsMn9V2B4zK3lT/NUclST98BmCla4Jzm+roeOHTqlPz3gPRJiPsr3wdvM+FSAJ2MRdv3l77mTE3v3hjsVVMmShR3VwwpxCICl3mpMsSaJZLyJdOHwvnpXs1m9kESwPD3DQ3RAQ/OGa0pPxAkHaauog4DhPvr/nBQnWHd2Us5b/ep7LME9hZ8u3hu/Kc6Vk24c5p3WUOiyaTiw+Ym3QDXl1wBSl9DdM94KbmAAQ5D/FUqyQnSc4TpmYvJ+Iavag</X509Certificate>
   </X509Data>
  </KeyInfo>
 </Signature>
</payment>
Base64 debit Notification (Successful)
PD94bWwgdmVyc2lvbj0iMS4wIiBlbmNvZGluZz0iVVRGLTgiPz48cGF5bWVudCB4bWxucz0iaHR0cDovL3d3dy5lbGFzdGljLXBheW1lbnRzLmNvbS9zY2hlbWEvcGF5bWVudCIgeG1sbnM6bnMyPSJodHRwOi8vd3d3LmVsYXN0aWMtcGF5bWVudHMuY29tL3NjaGVtYS9lcGEvdHJhbnNhY3Rpb24iPjxtZXJjaGFudC1hY2NvdW50LWlkPjFmNjI5NzYwLTFhNjYtNGY4My1hNmI0LTZhMzU2MjBiNGE2ZDwvbWVyY2hhbnQtYWNjb3VudC1pZD48dHJhbnNhY3Rpb24taWQ+MDM2ODUwNDMtMmRiMi00ZjliLWE2NzItOTI1Y2U3MjQzZTkxPC90cmFuc2FjdGlvbi1pZD48cmVxdWVzdC1pZD5lMWI5N2FmZi1hZTlhLTRmYTEtOTAyYy1jZjc3YmE4ZDQyYjA8L3JlcXVlc3QtaWQ+PHRyYW5zYWN0aW9uLXR5cGU+ZGViaXQ8L3RyYW5zYWN0aW9uLXR5cGU+PHRyYW5zYWN0aW9uLXN0YXRlPnN1Y2Nlc3M8L3RyYW5zYWN0aW9uLXN0YXRlPjxjb21wbGV0aW9uLXRpbWUtc3RhbXA+MjAxOC0wNS0yOVQxMDo0NDoxMC4wMDBaPC9jb21wbGV0aW9uLXRpbWUtc3RhbXA+PHN0YXR1c2VzPjxzdGF0dXMgY29kZT0iMjAxLjAwMDAiIGRlc2NyaXB0aW9uPSJlcHM6VGhlIHJlc291cmNlIHdhcyBzdWNjZXNzZnVsbHkgY3JlYXRlZC4iIHNldmVyaXR5PSJpbmZvcm1hdGlvbiIvPjwvc3RhdHVzZXM+PHJlcXVlc3RlZC1hbW91bnQgY3VycmVuY3k9IkVVUiI+MS45OTwvcmVxdWVzdGVkLWFtb3VudD48cGFyZW50LXRyYW5zYWN0aW9uLWlkPjA2YTA4MDJhLWI4YzYtNDE2Zi04ZWY5LTM4ZjAxODI0OWU2ZjwvcGFyZW50LXRyYW5zYWN0aW9uLWlkPjxpcC1hZGRyZXNzPjEwLjEwLjI0NS45NDwvaXAtYWRkcmVzcz48bm90aWZpY2F0aW9ucz48bm90aWZpY2F0aW9uIHVybD0ibWFpbHRvOmFtaXJhLnpha2lAd2lyZWNhcmQuY29tIi8+PC9ub3RpZmljYXRpb25zPjxwYXltZW50LW1ldGhvZHM+PHBheW1lbnQtbWV0aG9kIG5hbWU9ImVwcyIvPjwvcGF5bWVudC1tZXRob2RzPjxhcGktaWQ+LS0tPC9hcGktaWQ+PFNpZ25hdHVyZSB4bWxucz0iaHR0cDovL3d3dy53My5vcmcvMjAwMC8wOS94bWxkc2lnIyI+PFNpZ25lZEluZm8+PENhbm9uaWNhbGl6YXRpb25NZXRob2QgQWxnb3JpdGhtPSJodHRwOi8vd3d3LnczLm9yZy9UUi8yMDAxL1JFQy14bWwtYzE0bi0yMDAxMDMxNSIvPjxTaWduYXR1cmVNZXRob2QgQWxnb3JpdGhtPSJodHRwOi8vd3d3LnczLm9yZy8yMDAxLzA0L3htbGRzaWctbW9yZSNyc2Etc2hhMjU2Ii8+PFJlZmVyZW5jZSBVUkk9IiI+PFRyYW5zZm9ybXM+PFRyYW5zZm9ybSBBbGdvcml0aG09Imh0dHA6Ly93d3cudzMub3JnLzIwMDAvMDkveG1sZHNpZyNlbnZlbG9wZWQtc2lnbmF0dXJlIi8+PC9UcmFuc2Zvcm1zPjxEaWdlc3RNZXRob2QgQWxnb3JpdGhtPSJodHRwOi8vd3d3LnczLm9yZy8yMDAxLzA0L3htbGVuYyNzaGEyNTYiLz48RGlnZXN0VmFsdWU+V2hYNWpmQUdHV2Uvblo3MU8yaXZsN3RHcklLSExLbEhONUhIeTVVT2JEcz08L0RpZ2VzdFZhbHVlPjwvUmVmZXJlbmNlPjwvU2lnbmVkSW5mbz48U2lnbmF0dXJlVmFsdWU+UWQ3eE1QbmRxUytyNk5ZNHpGLzA5RG4zYlpYZWVlWnB0TExtUXZtRk1Yc213WFhEcktlZFJLMzFpcEJSdU5GaHEyVVh5N0NvcENEL1Q0NVJOT1cwcUlQcDdYak40anVDYlBLOFRLRFpGZXk0RFZiam9MSS9RM21xMG5hbGFveFA5dDk5L0o0dGgzVDhoK0tOUUlXQ3ZtUnowZEY0VVVWdlZtVWF5c2FxRXQ3eFQ1bm0zYzczanBBNU5rUFJBMXNYMFkwUTcwUWR5NmpJUGpwaFJoWUdndG5VTTZWcjFibjB1d2tpaUNBZk4xOUVjVENkbXo1THRXOUZRdjFyYTZ2Y0l3RUlpRzFyL2l5bS9NM0RzRjRCQnR0aEFFYkwxQjRZNXRvME9yVmRHaDFBRWFvako5MHZZZDYwRk1PdHFvYnMrajRHMENSdXRnWjVOdHdsR2NMNzBYdTdXRVdXdzc2T2NRZXh2WGFoNWkxV2d0dkZZSWNXTXlMbTBZTmUxYTdGalZlQTVXeXpvMmNSM24zcGg4VkZnM05wZUgrb0RueDFQczJOdklzcHhCWitEemFsQmNGZVFXSm1wT01sUTNvcVdsdDdZeHllaXFEalBtR3pzUEI4OTJNcWpTL1FxREd3Zlp6dlgzdS9TeVBuT29ERjdTaTlzMTg4enJlSG5qaitObFpZMWkxQjFzRUZKNTYxMDRxSmJRZHQrTzZzMVFxTGo2dktzMjZWclY0NzdsTkdoZ0RPRUtrZjFUUUZNeHI1a0RIYnAwd1orbnJwc2tJdCtBNmRuWTBvSDdkWHMrdUFLNkJSSysrVDIyZ09kZXhJOC9pSnNYWVNEZHJ3czA3TjNVeHhxMW1haDhKYkZDWU5oVVFMQjZoeFRHeUtiL3Mrd2ozNFZvOU8xVjA9PC9TaWduYXR1cmVWYWx1ZT48S2V5SW5mbz48WDUwOURhdGE+PFg1MDlTdWJqZWN0TmFtZT5MPUFzY2hlaW0sMi41LjQuND0jMTMwNjQyNjE3OTY1NzI2ZSxDTj1hcGktdGVzdC53aXJlY2FyZC5jb20sT1U9T3BlcmF0aW9ucyxPPVdpcmVjYXJkIFRlY2hub2xvZ2llcyBHbWJILEM9REU8L1g1MDlTdWJqZWN0TmFtZT48WDUwOUNlcnRpZmljYXRlPk1JSUY1RENDQk15Z0F3SUJBZ0lDTEhRd0RRWUpLb1pJaHZjTkFRRUxCUUF3V3pFTE1Ba0dBMVVFQmhNQ1JFVXhFVEFQQmdOVkJBb1RDRmRwY21WallYSmtNVGt3TndZRFZRUURGREIzYVhKbFkyRnlaQzFFVVMxTlZVTXRhVzUwWlhKdVlXd3RkMlZpYzJWeWRtbGpaUzFwYzNOMWFXNW5RMEZmTURJd0hoY05NVGN3TVRFeU1UTTFPVEkyV2hjTk1Ua3dNVEV5TVRNMU9USTJXakNCaWpFTE1Ba0dBMVVFQmhNQ1JFVXhJekFoQmdOVkJBb1RHbGRwY21WallYSmtJRlJsWTJodWIyeHZaMmxsY3lCSGJXSklNUk13RVFZRFZRUUxFd3BQY0dWeVlYUnBiMjV6TVI0d0hBWURWUVFERXhWaGNHa3RkR1Z6ZEM1M2FYSmxZMkZ5WkM1amIyMHhEekFOQmdOVkJBUVRCa0poZVdWeWJqRVFNQTRHQTFVRUJ4TUhRWE5qYUdWcGJUQ0NBaUl3RFFZSktvWklodmNOQVFFQkJRQURnZ0lQQURDQ0Fnb0NnZ0lCQUtTa0V4Qlk4RmpSY1pkcnhPdUpGK0haWTgrTWNRYU9COEIwRS9oVFVob2Nsc0Y0T0pOYU1UaGplN1I2dzZPWVdCTUtwc3NHbmdIRmFadjM1ckNvNVhWVXBKbWpaYTA0eXR4RTcyR0tPL3VQNHlJUjdaQlhaeDQyQjIyTUZhSkpaVGdQUkNDRmQ2anJ6OTA2QlovL0NtRUFtazVnS2VsZlB4ZldKZ0d5VFg2eHo3STlSL0c1N0UxeE5PdUVpaE4wbWE1UTJJaEQ3MU1QVnNlRklHYXp5ZkdiSkQ2cllZYmVCYk9RU0drLy9UTDhzZFJDbjBCTGNtNERINW9xY1B4REt6a2FCUDRvaE5rQ1dzeHBMTFN5VjZXeDBpaFQwUzFPTFZOa0VlVHZjcllnVWsxMjRWeUdhdHdXTlV1Q0JZeU9HUVNPR3FyVzhJSG1yaGp6elQwTlFvZzAvbTM4bHBkcXcvZVdtdDM5cWhPRHFTZklMVWsyRHh2MStXMElSS0pDS2NKcmNUYlhFUUN1SGwrWFdZK1UyQWhpbklQTlJBMEtYMm9PZ0MvL2lud3lLV1NHV0hkUW5hYWtlNjQ2UjF3SHF0b0VmQ3RFY2Z5YWVSK0lyTXIxckNBQTNSWitNSDFKNVVsVUNXY254UFQwa2FkNmRVd2UzUWpxM2pLNGdhRnpZVTJ5VlNjWDVMVlpNbFd5Mk5pR0NJdm5nSFFtaEFyRVN6eE1Wdno1TUVUWnVqZmF4NmhmbWlMTlJXdTBacXMwOU1weHk1ems1bS9XUmk1aXpiMHVCZUNmY0E2eDlwbWpNeDhNNE9HRzVSTzJIVFhTd0xZSlRLSTQ3VlhOc0xMT1krbk1GbWhqL2RrTEo1ZDN6STdFY3pUb1BNUkhtSEc3RXFFZEFmYmIrb1VsQWdNQkFBR2pnZ0dBTUlJQmZEQVJCZ05WSFE0RUNnUUlTNndWSUEwbUo5SXdFd1lEVlIwakJBd3dDb0FJUTJ3ZUZ0UTlCUTR3Q3dZRFZSMFBCQVFEQWdUd01JSUJRd1lEVlIwZkJJSUJPakNDQVRZd2dnRXlvSUlCTHFDQ0FTcUdnZFZzWkdGd09pOHZkMmx5WldOaGNtUXViR0Z1TDBOT1BYZHBjbVZqWVhKa0xVUlJMVTFWUXkxcGJuUmxjbTVoYkMxM1pXSnpaWEoyYVdObExXbHpjM1ZwYm1kRFFWOHdNaXhEVGoxRFJGQXNRMDQ5VUhWaWJHbGpJRXRsZVNCVFpYSjJhV05sY3l4RFRqMVRaWEoyYVdObGN5eERUajFEYjI1bWFXZDFjbUYwYVc5dUxHUmpQWGRwY21WallYSmtMR1JqUFd4aGJqOWpaWEowYVdacFkyRjBaVkpsZG05allYUnBiMjVNYVhOMFAySmhjMlUvYjJKcVpXTjBRMnhoYzNNOVExSk1SR2x6ZEhKcFluVjBhVzl1VUc5cGJuU0dVR2gwZEhBNkx5OWpjbXd1ZDJseVpXTmhjbVF1YkdGdUwwTlNURjkzYVhKbFkyRnlaQzFFVVMxTlZVTXRhVzUwWlhKdVlXd3RkMlZpYzJWeWRtbGpaUzFwYzNOMWFXNW5RMEZmTURJdVkzSnNNQTBHQ1NxR1NJYjNEUUVCQ3dVQUE0SUJBUUFtbFVvaUVGUFJzT2pHUGI3U1lpdUpMeHFUWEN2WlFldVhpVXlkRjZGUWwveklwUi96U2x0YVpLSzg2TCsxaTd0MUM4OU95VFRYQkQ5Rk42RUttbEhvL3Vsc01uOVYyQjR6SzNsVC9OVWNsU1Q5OEJtQ2xhNEp6bStyb2VPSFRxbFB6M2dQUkppUHNyM3dkdk0rRlNBSjJNUmR2M2w3N21URTN2M2hqc1ZWTW1TaFIzVnd3cHhDSUNsM21wTXNTYUpaTHlKZE9Id3ZucFhzMW05a0VTd1BEM0RRM1JBUS9PR2EwcFB4QWtIYWF1b2c0RGhQdnIvbkJRbldIZDJVczViL2VwN0xNRTloWjh1M2h1L0tjNlZrMjRjNXAzV1VPaXlhVGl3K1ltM1FEWGwxd0JTbDlEZE05NEtibUFBUTVEL0ZVcXlRblNjNFRwbVl2SitJYXZhZzwvWDUwOUNlcnRpZmljYXRlPjwvWDUwOURhdGE+PC9LZXlJbmZvPjwvU2lnbmF0dXJlPjwvcGF5bWVudD4=
Failure Request/Response
XML get-url Request (Failure)
<?xml version="1.0" encoding="utf-8" standalone="yes"?>
<payment xmlns="http://www.elastic-payments.com/schema/payment">
    <merchant-account-id>1f629760-1a66-4f83-a6b4-6a35620b4a6d</merchant-account-id>
    <request-id>fc47bb53-c297-448f-bc00-c5ff579f184d</request-id>
    <transaction-type>get-url</transaction-type>
    <payment-methods>
        <payment-method name="eps" />
    </payment-methods>
    <ip-address>10.10.245.94</ip-address>
    <bank-account>
        <bic>BWFBATW1XXX</bic>
    </bank-account>
    <notifications>
  <notification url="https://www.yourshop.at/notifications?REQUESTID=${unique for each request}"/>
    </notifications>
 <cancel-redirect-url>https://demoshop-test.wirecard.com/demoshop/#/cancel</cancel-redirect-url>
 <success-redirect-url>https://demoshop-test.wirecard.com/demoshop/#/success</success-redirect-url>
 <fail-redirect-url>https://demoshop-test.wirecard.com/demoshop/#/error</fail-redirect-url>
    <processing-redirect-url>https://sandbox-engine.thesolution.com/shop/processing.html</processing-redirect-url>
</payment>
XML get-url Response (Failure)
<?xml version="1.0" encoding="utf-8" standalone="yes"?>
<payment xmlns="http://www.elastic-payments.com/schema/payment" xmlns:ns2="http://www.elastic-payments.com/schema/epa/transaction">
 <merchant-account-id>1f629760-1a66-4f83-a6b4-6a35620b4a6d</merchant-account-id>
 <request-id>fc47bb53-c297-448f-bc00-c5ff579f184d</request-id>
 <transaction-type>get-url</transaction-type>
 <transaction-state>failed</transaction-state>
 <statuses>
  <status code="400.1011" description="The Requested Amount has not been provided.  Please check your input and try again." severity="error" />
 </statuses>
 <ip-address>10.10.245.94</ip-address>
 <notifications>
  <notification url="https://www.yourshop.at/notifications?REQUESTID=${unique for each request}"/>
 </notifications>
 <payment-methods>
  <payment-method name="eps" />
 </payment-methods>
 <bank-account>
  <bic>BWFBATW1XXX</bic>
 </bank-account>
 <processing-redirect-url>https://sandbox-engine.thesolution.com/shop/processing.html</processing-redirect-url>
 <cancel-redirect-url>https://demoshop-test.wirecard.com/demoshop/#/cancel</cancel-redirect-url>
 <fail-redirect-url>https://demoshop-test.wirecard.com/demoshop/#/error</fail-redirect-url>
 <success-redirect-url>https://demoshop-test.wirecard.com/demoshop/#/success</success-redirect-url>
</payment>
Successful Request/Response with Failure Notification
XML get-url Request (Successful)
<?xml version="1.0" encoding="utf-8" standalone="yes"?>
<payment xmlns="http://www.elastic-payments.com/schema/payment">
    <merchant-account-id>1f629760-1a66-4f83-a6b4-6a35620b4a6d</merchant-account-id>
    <request-id>a1329030-3570-49c9-b6e0-21245067e7c6</request-id>
    <transaction-type>get-url</transaction-type>
    <requested-amount currency="EUR">1.99</requested-amount>
    <payment-methods>
        <payment-method name="eps" />
    </payment-methods>
    <ip-address>10.10.245.94</ip-address>
    <bank-account>
        <bic>BWFBATW1XXX</bic>
    </bank-account>
    <notifications>
        <notification url="https://www.yourshop.at/notifications?REQUESTID=${unique for each request}"/>
    </notifications>
 <cancel-redirect-url>https://demoshop-test.wirecard.com/demoshop/#/cancel</cancel-redirect-url>
 <success-redirect-url>https://demoshop-test.wirecard.com/demoshop/#/success</success-redirect-url>
 <fail-redirect-url>https://demoshop-test.wirecard.com/demoshop/#/error</fail-redirect-url>
    <processing-redirect-url>https://sandbox-engine.thesolution.com/shop/processing.html</processing-redirect-url>
</payment>
XML get-url Response (Successful)
 <?xml version="1.0" encoding="utf-8" standalone="yes"?>
<payment xmlns="http://www.elastic-payments.com/schema/payment" xmlns:ns2="http://www.elastic-payments.com/schema/epa/transaction">
 <merchant-account-id>1f629760-1a66-4f83-a6b4-6a35620b4a6d</merchant-account-id>
 <transaction-id>ba65bb58-fbed-4988-87ee-9520db9f9679</transaction-id>
 <request-id>a1329030-3570-49c9-b6e0-21245067e7c6</request-id>
 <transaction-type>get-url</transaction-type>
 <transaction-state>success</transaction-state>
 <completion-time-stamp>2018-05-29T10:51:38.000Z</completion-time-stamp>
 <statuses>
  <status code="201.0000" description="The resource was successfully created." severity="information" />
 </statuses>
 <requested-amount currency="EUR">1.99</requested-amount>
 <ip-address>10.10.245.94</ip-address>
 <notifications>
  <notification url="https://www.yourshop.at/notifications?REQUESTID=${unique for each request}"/>
 </notifications>
 <payment-methods>
  <payment-method url="https://www.banking.co.at/appl/ebp/logout/so/loginPrepare/eps.html?resource=93&amp;demo=true&amp;cai=%2BYiQ3JORlRQkhYtFdXQg1LEy5ZKS4HQOgZCQ2Zxe3Lgt*akvra3WhjhP*OABmBli6TVsxDAB-" name="eps" />
 </payment-methods>
 <bank-account>
  <bic>BWFBATW1XXX</bic>
 </bank-account>
 <processing-redirect-url>https://sandbox-engine.thesolution.com/shop/processing.html</processing-redirect-url>
 <cancel-redirect-url>https://demoshop-test.wirecard.com/demoshop/#/cancel</cancel-redirect-url>
 <fail-redirect-url>https://demoshop-test.wirecard.com/demoshop/#/error</fail-redirect-url>
 <success-redirect-url>https://demoshop-test.wirecard.com/demoshop/#/success</success-redirect-url>
</payment>
XML debit Notification (Failure)
<?xml version="1.0" encoding="UTF-8"?>
<payment xmlns="http://www.elastic-payments.com/schema/payment" xmlns:ns2="http://www.elastic-payments.com/schema/epa/transaction">
 <merchant-account-id>1f629760-1a66-4f83-a6b4-6a35620b4a6d</merchant-account-id>
 <transaction-id>ad513283-d391-4af0-b357-32a36bcddaf8</transaction-id>
 <request-id>a1329030-3570-49c9-b6e0-21245067e7c6</request-id>
 <transaction-type>debit</transaction-type>
 <transaction-state>failed</transaction-state>
 <completion-time-stamp>2018-05-29T10:51:59.000Z</completion-time-stamp>
 <statuses>
  <status code="500.1127" description="eps:Failed confirmation received from the third party." severity="error"/>
 </statuses>
 <requested-amount currency="EUR">1.990000</requested-amount>
 <parent-transaction-id>ba65bb58-fbed-4988-87ee-9520db9f9679</parent-transaction-id>
 <ip-address>10.10.245.94</ip-address>
 <notifications>
  <notification url="https://www.yourshop.at/notifications?REQUESTID=${unique for each request}"/>
 </notifications>
 <payment-methods>
  <payment-method name="eps"/>
 </payment-methods>
 <api-id>---</api-id>
 <processing-redirect-url>https://sandbox-engine.thesolution.com/shop/processing.html</processing-redirect-url>
 <cancel-redirect-url>https://demoshop-test.wirecard.com/demoshop/#/cancel</cancel-redirect-url>
 <fail-redirect-url>https://demoshop-test.wirecard.com/demoshop/#/error</fail-redirect-url>
 <success-redirect-url>https://demoshop-test.wirecard.com/demoshop/#/success</success-redirect-url>
 <Signature xmlns="http://www.w3.org/2000/09/xmldsig#">
  <SignedInfo>
   <CanonicalizationMethod Algorithm="http://www.w3.org/TR/2001/REC-xml-c14n-20010315"/>
   <SignatureMethod Algorithm="http://www.w3.org/2001/04/xmldsig-more#rsa-sha256"/>
   <Reference URI="">
    <Transforms>
     <Transform Algorithm="http://www.w3.org/2000/09/xmldsig#enveloped-signature"/>
    </Transforms>
    <DigestMethod Algorithm="http://www.w3.org/2001/04/xmlenc#sha256"/>
    <DigestValue>+HStec44U633YlaZe4pWclwDu9HwE0gMMkvm4fWxGPw=</DigestValue>
   </Reference>
  </SignedInfo>
  <SignatureValue>J3B+0jkbdHpihFIxScpZtNTZHS9wD5G1FnA1FbjSTwQ6J6gccUrHykcnm02LfDqKx9m6LPR3NaV0ifjCo+t8unWp6uIZd9sQHehQVxsi5aIkRhEFwE07j5+QMnr0EziauUMUuPrFlLe9w+VeLD/rODQ9AS2aq5UuGuy4e2/KrTB0tUYhdp9RKGDSg8fn6t4yZ6xg5/Dh1ypDTJYmstUAzrCHzY99m5B3aVczN4CrF8gvTN0BCv/oh0vUqtU5w/FDtdqwgiYblNXLqCJ7LlJUS5aD+vIj+nIEbL86hEWjlvA3BHynHWI3Dx5vj4Fqa2+M+82RDGwAUWD4zrSNSD6Zi4LjZ6cAugD3mIeKQ3TmCEBdrOac8jGO7ZU1ywHYbosJGEJyaYkGb2Wp+y42hodW/rWiJoCOo5B1b9g9goX3AUT36KYprAY6X0657bE/zKYza5L60CPcO7nQvJgqB+cq1fvsJ7gLN2rvXoO8M1wSzvTN/HPahcpqMT1bfiF7SORmppd8UsyIs/REIHUg0XVMxhi73vODi2xQKVu/fBU/d3vgG/UU04df9B+NV4d0B4LRrx6t/QcH9dyOkHPB/qTVPIbgD61rNOWL2BYS8py7ZClukp0T1ITCImJmL5mgzdeywKtD+a2KAeE7r0yiXIz7yETmAMBNw6yQhRwnkecnA40=</SignatureValue>
  <KeyInfo>
   <X509Data>
    <X509SubjectName>L=Ascheim,2.5.4.4=#130642617965726e,CN=api-test.wirecard.com,OU=Operations,O=Wirecard Technologies GmbH,C=DE</X509SubjectName>
    <X509Certificate>MIIF5DCCBMygAwIBAgICLHQwDQYJKoZIhvcNAQELBQAwWzELMAkGA1UEBhMCREUxETAPBgNVBAoTCFdpcmVjYXJkMTkwNwYDVQQDFDB3aXJlY2FyZC1EUS1NVUMtaW50ZXJuYWwtd2Vic2VydmljZS1pc3N1aW5nQ0FfMDIwHhcNMTcwMTEyMTM1OTI2WhcNMTkwMTEyMTM1OTI2WjCBijELMAkGA1UEBhMCREUxIzAhBgNVBAoTGldpcmVjYXJkIFRlY2hub2xvZ2llcyBHbWJIMRMwEQYDVQQLEwpPcGVyYXRpb25zMR4wHAYDVQQDExVhcGktdGVzdC53aXJlY2FyZC5jb20xDzANBgNVBAQTBkJheWVybjEQMA4GA1UEBxMHQXNjaGVpbTCCAiIwDQYJKoZIhvcNAQEBBQADggIPADCCAgoCggIBAKSkExBY8FjRcZdrxOuJF+HZY8+McQaOB8B0E/hTUhoclsF4OJNaMThje7R6w6OYWBMKpssGngHFaZv35rCo5XVUpJmjZa04ytxE72GKO/uP4yIR7ZBXZx42B22MFaJJZTgPRCCFd6jrz906BZ//CmEAmk5gKelfPxfWJgGyTX6xz7I9R/G57E1xNOuEihN0ma5Q2IhD71MPVseFIGazyfGbJD6rYYbeBbOQSGk//TL8sdRCn0BLcm4DH5oqcPxDKzkaBP4ohNkCWsxpLLSyV6Wx0ihT0S1OLVNkEeTvcrYgUk124VyGatwWNUuCBYyOGQSOGqrW8IHmrhjzzT0NQog0/m38lpdqw/eWmt39qhODqSfILUk2Dxv1+W0IRKJCKcJrcTbXEQCuHl+XWY+U2AhinIPNRA0KX2oOgC//inwyKWSGWHdQnaake646R1wHqtoEfCtEcfyaeR+IrMr1rCAA3RZ+MH1J5UlUCWcnxPT0kad6dUwe3Qjq3jK4gaFzYU2yVScX5LVZMlWy2NiGCIvngHQmhArESzxMVvz5METZujfax6hfmiLNRWu0Zqs09Mpxy5zk5m/WRi5izb0uBeCfcA6x9pmjMx8M4OGG5RO2HTXSwLYJTKI47VXNsLLOY+nMFmhj/dkLJ5d3zI7EczToPMRHmHG7EqEdAfbb+oUlAgMBAAGjggGAMIIBfDARBgNVHQ4ECgQIS6wVIA0mJ9IwEwYDVR0jBAwwCoAIQ2weFtQ9BQ4wCwYDVR0PBAQDAgTwMIIBQwYDVR0fBIIBOjCCATYwggEyoIIBLqCCASqGgdVsZGFwOi8vd2lyZWNhcmQubGFuL0NOPXdpcmVjYXJkLURRLU1VQy1pbnRlcm5hbC13ZWJzZXJ2aWNlLWlzc3VpbmdDQV8wMixDTj1DRFAsQ049UHVibGljIEtleSBTZXJ2aWNlcyxDTj1TZXJ2aWNlcyxDTj1Db25maWd1cmF0aW9uLGRjPXdpcmVjYXJkLGRjPWxhbj9jZXJ0aWZpY2F0ZVJldm9jYXRpb25MaXN0P2Jhc2U/b2JqZWN0Q2xhc3M9Q1JMRGlzdHJpYnV0aW9uUG9pbnSGUGh0dHA6Ly9jcmwud2lyZWNhcmQubGFuL0NSTF93aXJlY2FyZC1EUS1NVUMtaW50ZXJuYWwtd2Vic2VydmljZS1pc3N1aW5nQ0FfMDIuY3JsMA0GCSqGSIb3DQEBCwUAA4IBAQAmlUoiEFPRsOjGPb7SYiuJLxqTXCvZQeuXiUydF6FQl/zIpR/zSltaZKK86L+1i7t1C89OyTTXBD9FN6EKmlHo/ulsMn9V2B4zK3lT/NUclST98BmCla4Jzm+roeOHTqlPz3gPRJiPsr3wdvM+FSAJ2MRdv3l77mTE3v3hjsVVMmShR3VwwpxCICl3mpMsSaJZLyJdOHwvnpXs1m9kESwPD3DQ3RAQ/OGa0pPxAkHaauog4DhPvr/nBQnWHd2Us5b/ep7LME9hZ8u3hu/Kc6Vk24c5p3WUOiyaTiw+Ym3QDXl1wBSl9DdM94KbmAAQ5D/FUqyQnSc4TpmYvJ+Iavag</X509Certificate>
   </X509Data>
  </KeyInfo>
 </Signature>
</payment>
Base64 debit Notification (Failure)
PD94bWwgdmVyc2lvbj0iMS4wIiBlbmNvZGluZz0iVVRGLTgiPz48cGF5bWVudCB4bWxucz0iaHR0cDovL3d3dy5lbGFzdGljLXBheW1lbnRzLmNvbS9zY2hlbWEvcGF5bWVudCIgeG1sbnM6bnMyPSJodHRwOi8vd3d3LmVsYXN0aWMtcGF5bWVudHMuY29tL3NjaGVtYS9lcGEvdHJhbnNhY3Rpb24iPjxtZXJjaGFudC1hY2NvdW50LWlkPjFmNjI5NzYwLTFhNjYtNGY4My1hNmI0LTZhMzU2MjBiNGE2ZDwvbWVyY2hhbnQtYWNjb3VudC1pZD48dHJhbnNhY3Rpb24taWQ+YWQ1MTMyODMtZDM5MS00YWYwLWIzNTctMzJhMzZiY2RkYWY4PC90cmFuc2FjdGlvbi1pZD48cmVxdWVzdC1pZD5hMTMyOTAzMC0zNTcwLTQ5YzktYjZlMC0yMTI0NTA2N2U3YzY8L3JlcXVlc3QtaWQ+PHRyYW5zYWN0aW9uLXR5cGU+ZGViaXQ8L3RyYW5zYWN0aW9uLXR5cGU+PHRyYW5zYWN0aW9uLXN0YXRlPmZhaWxlZDwvdHJhbnNhY3Rpb24tc3RhdGU+PGNvbXBsZXRpb24tdGltZS1zdGFtcD4yMDE4LTA1LTI5VDEwOjUxOjU5LjAwMFo8L2NvbXBsZXRpb24tdGltZS1zdGFtcD48c3RhdHVzZXM+PHN0YXR1cyBjb2RlPSI1MDAuMTEyNyIgZGVzY3JpcHRpb249ImVwczpGYWlsZWQgY29uZmlybWF0aW9uIHJlY2VpdmVkIGZyb20gdGhlIHRoaXJkIHBhcnR5LiIgc2V2ZXJpdHk9ImVycm9yIi8+PC9zdGF0dXNlcz48cmVxdWVzdGVkLWFtb3VudCBjdXJyZW5jeT0iRVVSIj4xLjk5MDAwMDwvcmVxdWVzdGVkLWFtb3VudD48cGFyZW50LXRyYW5zYWN0aW9uLWlkPmJhNjViYjU4LWZiZWQtNDk4OC04N2VlLTk1MjBkYjlmOTY3OTwvcGFyZW50LXRyYW5zYWN0aW9uLWlkPjxpcC1hZGRyZXNzPjEwLjEwLjI0NS45NDwvaXAtYWRkcmVzcz48bm90aWZpY2F0aW9ucz48bm90aWZpY2F0aW9uIHVybD0ibWFpbHRvOmFtaXJhLnpha2lAd2lyZWNhcmQuY29tIi8+PC9ub3RpZmljYXRpb25zPjxwYXltZW50LW1ldGhvZHM+PHBheW1lbnQtbWV0aG9kIG5hbWU9ImVwcyIvPjwvcGF5bWVudC1tZXRob2RzPjxhcGktaWQ+LS0tPC9hcGktaWQ+PHByb2Nlc3NpbmctcmVkaXJlY3QtdXJsPmh0dHBzOi8vc2FuZGJveC1lbmdpbmUudGhlc29sdXRpb24uY29tL3Nob3AvcHJvY2Vzc2luZy5odG1sPC9wcm9jZXNzaW5nLXJlZGlyZWN0LXVybD48Y2FuY2VsLXJlZGlyZWN0LXVybD5odHRwczovL2RlbW9zaG9wLXRlc3Qud2lyZWNhcmQuY29tL2RlbW9zaG9wLyMhL2NhbmNlbDwvY2FuY2VsLXJlZGlyZWN0LXVybD48ZmFpbC1yZWRpcmVjdC11cmw+aHR0cHM6Ly9kZW1vc2hvcC10ZXN0LndpcmVjYXJkLmNvbS9kZW1vc2hvcC8jIS9lcnJvcjwvZmFpbC1yZWRpcmVjdC11cmw+PHN1Y2Nlc3MtcmVkaXJlY3QtdXJsPmh0dHBzOi8vZGVtb3Nob3AtdGVzdC53aXJlY2FyZC5jb20vZGVtb3Nob3AvIyEvc3VjY2Vzczwvc3VjY2Vzcy1yZWRpcmVjdC11cmw+PFNpZ25hdHVyZSB4bWxucz0iaHR0cDovL3d3dy53My5vcmcvMjAwMC8wOS94bWxkc2lnIyI+PFNpZ25lZEluZm8+PENhbm9uaWNhbGl6YXRpb25NZXRob2QgQWxnb3JpdGhtPSJodHRwOi8vd3d3LnczLm9yZy9UUi8yMDAxL1JFQy14bWwtYzE0bi0yMDAxMDMxNSIvPjxTaWduYXR1cmVNZXRob2QgQWxnb3JpdGhtPSJodHRwOi8vd3d3LnczLm9yZy8yMDAxLzA0L3htbGRzaWctbW9yZSNyc2Etc2hhMjU2Ii8+PFJlZmVyZW5jZSBVUkk9IiI+PFRyYW5zZm9ybXM+PFRyYW5zZm9ybSBBbGdvcml0aG09Imh0dHA6Ly93d3cudzMub3JnLzIwMDAvMDkveG1sZHNpZyNlbnZlbG9wZWQtc2lnbmF0dXJlIi8+PC9UcmFuc2Zvcm1zPjxEaWdlc3RNZXRob2QgQWxnb3JpdGhtPSJodHRwOi8vd3d3LnczLm9yZy8yMDAxLzA0L3htbGVuYyNzaGEyNTYiLz48RGlnZXN0VmFsdWU+K0hTdGVjNDRVNjMzWWxhWmU0cFdjbHdEdTlId0UwZ01Na3ZtNGZXeEdQdz08L0RpZ2VzdFZhbHVlPjwvUmVmZXJlbmNlPjwvU2lnbmVkSW5mbz48U2lnbmF0dXJlVmFsdWU+SjNCKzBqa2JkSHBpaEZJeFNjcFp0TlRaSFM5d0Q1RzFGbkExRmJqU1R3UTZKNmdjY1VySHlrY25tMDJMZkRxS3g5bTZMUFIzTmFWMGlmakNvK3Q4dW5XcDZ1SVpkOXNRSGVoUVZ4c2k1YUlrUmhFRndFMDdqNStRTW5yMEV6aWF1VU1VdVByRmxMZTl3K1ZlTEQvck9EUTlBUzJhcTVVdUd1eTRlMi9LclRCMHRVWWhkcDlSS0dEU2c4Zm42dDR5WjZ4ZzUvRGgxeXBEVEpZbXN0VUF6ckNIelk5OW01QjNhVmN6TjRDckY4Z3ZUTjBCQ3Yvb2gwdlVxdFU1dy9GRHRkcXdnaVlibE5YTHFDSjdMbEpVUzVhRCt2SWorbklFYkw4NmhFV2psdkEzQkh5bkhXSTNEeDV2ajRGcWEyK00rODJSREd3QVVXRDR6clNOU0Q2Wmk0TGpaNmNBdWdEM21JZUtRM1RtQ0VCZHJPYWM4akdPN1pVMXl3SFlib3NKR0VKeWFZa0diMldwK3k0MmhvZFcvcldpSm9DT281QjFiOWc5Z29YM0FVVDM2S1lwckFZNlgwNjU3YkUvektZemE1TDYwQ1BjTzduUXZKZ3FCK2NxMWZ2c0o3Z0xOMnJ2WG9POE0xd1N6dlROL0hQYWhjcHFNVDFiZmlGN1NPUm1wcGQ4VXN5SXMvUkVJSFVnMFhWTXhoaTczdk9EaTJ4UUtWdS9mQlUvZDN2Z0cvVVUwNGRmOUIrTlY0ZDBCNExScng2dC9RY0g5ZHlPa0hQQi9xVFZQSWJnRDYxck5PV0wyQllTOHB5N1pDbHVrcDBUMUlUQ0ltSm1MNW1nemRleXdLdEQrYTJLQWVFN3IweWlYSXo3eUVUbUFNQk53NnlRaFJ3bmtlY25BNDA9PC9TaWduYXR1cmVWYWx1ZT48S2V5SW5mbz48WDUwOURhdGE+PFg1MDlTdWJqZWN0TmFtZT5MPUFzY2hlaW0sMi41LjQuND0jMTMwNjQyNjE3OTY1NzI2ZSxDTj1hcGktdGVzdC53aXJlY2FyZC5jb20sT1U9T3BlcmF0aW9ucyxPPVdpcmVjYXJkIFRlY2hub2xvZ2llcyBHbWJILEM9REU8L1g1MDlTdWJqZWN0TmFtZT48WDUwOUNlcnRpZmljYXRlPk1JSUY1RENDQk15Z0F3SUJBZ0lDTEhRd0RRWUpLb1pJaHZjTkFRRUxCUUF3V3pFTE1Ba0dBMVVFQmhNQ1JFVXhFVEFQQmdOVkJBb1RDRmRwY21WallYSmtNVGt3TndZRFZRUURGREIzYVhKbFkyRnlaQzFFVVMxTlZVTXRhVzUwWlhKdVlXd3RkMlZpYzJWeWRtbGpaUzFwYzNOMWFXNW5RMEZmTURJd0hoY05NVGN3TVRFeU1UTTFPVEkyV2hjTk1Ua3dNVEV5TVRNMU9USTJXakNCaWpFTE1Ba0dBMVVFQmhNQ1JFVXhJekFoQmdOVkJBb1RHbGRwY21WallYSmtJRlJsWTJodWIyeHZaMmxsY3lCSGJXSklNUk13RVFZRFZRUUxFd3BQY0dWeVlYUnBiMjV6TVI0d0hBWURWUVFERXhWaGNHa3RkR1Z6ZEM1M2FYSmxZMkZ5WkM1amIyMHhEekFOQmdOVkJBUVRCa0poZVdWeWJqRVFNQTRHQTFVRUJ4TUhRWE5qYUdWcGJUQ0NBaUl3RFFZSktvWklodmNOQVFFQkJRQURnZ0lQQURDQ0Fnb0NnZ0lCQUtTa0V4Qlk4RmpSY1pkcnhPdUpGK0haWTgrTWNRYU9COEIwRS9oVFVob2Nsc0Y0T0pOYU1UaGplN1I2dzZPWVdCTUtwc3NHbmdIRmFadjM1ckNvNVhWVXBKbWpaYTA0eXR4RTcyR0tPL3VQNHlJUjdaQlhaeDQyQjIyTUZhSkpaVGdQUkNDRmQ2anJ6OTA2QlovL0NtRUFtazVnS2VsZlB4ZldKZ0d5VFg2eHo3STlSL0c1N0UxeE5PdUVpaE4wbWE1UTJJaEQ3MU1QVnNlRklHYXp5ZkdiSkQ2cllZYmVCYk9RU0drLy9UTDhzZFJDbjBCTGNtNERINW9xY1B4REt6a2FCUDRvaE5rQ1dzeHBMTFN5VjZXeDBpaFQwUzFPTFZOa0VlVHZjcllnVWsxMjRWeUdhdHdXTlV1Q0JZeU9HUVNPR3FyVzhJSG1yaGp6elQwTlFvZzAvbTM4bHBkcXcvZVdtdDM5cWhPRHFTZklMVWsyRHh2MStXMElSS0pDS2NKcmNUYlhFUUN1SGwrWFdZK1UyQWhpbklQTlJBMEtYMm9PZ0MvL2lud3lLV1NHV0hkUW5hYWtlNjQ2UjF3SHF0b0VmQ3RFY2Z5YWVSK0lyTXIxckNBQTNSWitNSDFKNVVsVUNXY254UFQwa2FkNmRVd2UzUWpxM2pLNGdhRnpZVTJ5VlNjWDVMVlpNbFd5Mk5pR0NJdm5nSFFtaEFyRVN6eE1Wdno1TUVUWnVqZmF4NmhmbWlMTlJXdTBacXMwOU1weHk1ems1bS9XUmk1aXpiMHVCZUNmY0E2eDlwbWpNeDhNNE9HRzVSTzJIVFhTd0xZSlRLSTQ3VlhOc0xMT1krbk1GbWhqL2RrTEo1ZDN6STdFY3pUb1BNUkhtSEc3RXFFZEFmYmIrb1VsQWdNQkFBR2pnZ0dBTUlJQmZEQVJCZ05WSFE0RUNnUUlTNndWSUEwbUo5SXdFd1lEVlIwakJBd3dDb0FJUTJ3ZUZ0UTlCUTR3Q3dZRFZSMFBCQVFEQWdUd01JSUJRd1lEVlIwZkJJSUJPakNDQVRZd2dnRXlvSUlCTHFDQ0FTcUdnZFZzWkdGd09pOHZkMmx5WldOaGNtUXViR0Z1TDBOT1BYZHBjbVZqWVhKa0xVUlJMVTFWUXkxcGJuUmxjbTVoYkMxM1pXSnpaWEoyYVdObExXbHpjM1ZwYm1kRFFWOHdNaXhEVGoxRFJGQXNRMDQ5VUhWaWJHbGpJRXRsZVNCVFpYSjJhV05sY3l4RFRqMVRaWEoyYVdObGN5eERUajFEYjI1bWFXZDFjbUYwYVc5dUxHUmpQWGRwY21WallYSmtMR1JqUFd4aGJqOWpaWEowYVdacFkyRjBaVkpsZG05allYUnBiMjVNYVhOMFAySmhjMlUvYjJKcVpXTjBRMnhoYzNNOVExSk1SR2x6ZEhKcFluVjBhVzl1VUc5cGJuU0dVR2gwZEhBNkx5OWpjbXd1ZDJseVpXTmhjbVF1YkdGdUwwTlNURjkzYVhKbFkyRnlaQzFFVVMxTlZVTXRhVzUwWlhKdVlXd3RkMlZpYzJWeWRtbGpaUzFwYzNOMWFXNW5RMEZmTURJdVkzSnNNQTBHQ1NxR1NJYjNEUUVCQ3dVQUE0SUJBUUFtbFVvaUVGUFJzT2pHUGI3U1lpdUpMeHFUWEN2WlFldVhpVXlkRjZGUWwveklwUi96U2x0YVpLSzg2TCsxaTd0MUM4OU95VFRYQkQ5Rk42RUttbEhvL3Vsc01uOVYyQjR6SzNsVC9OVWNsU1Q5OEJtQ2xhNEp6bStyb2VPSFRxbFB6M2dQUkppUHNyM3dkdk0rRlNBSjJNUmR2M2w3N21URTN2M2hqc1ZWTW1TaFIzVnd3cHhDSUNsM21wTXNTYUpaTHlKZE9Id3ZucFhzMW05a0VTd1BEM0RRM1JBUS9PR2EwcFB4QWtIYWF1b2c0RGhQdnIvbkJRbldIZDJVczViL2VwN0xNRTloWjh1M2h1L0tjNlZrMjRjNXAzV1VPaXlhVGl3K1ltM1FEWGwxd0JTbDlEZE05NEtibUFBUTVEL0ZVcXlRblNjNFRwbVl2SitJYXZhZzwvWDUwOUNlcnRpZmljYXRlPjwvWDUwOURhdGE+PC9LZXlJbmZvPjwvU2lnbmF0dXJlPjwvcGF5bWVudD4=
get-url with Bank Selection in eps-Überweisung SO System
XML get-url Request (Successful)
<?xml version="1.0" encoding="utf-8" standalone="yes"?>
<payment xmlns="http://www.elastic-payments.com/schema/payment">
    <merchant-account-id>1f629760-1a66-4f83-a6b4-6a35620b4a6d</merchant-account-id>
    <request-id>38f2ceae-7843-48f5-b059-3506b0c35376</request-id>
    <transaction-type>get-url</transaction-type>
    <requested-amount currency="EUR">1.99</requested-amount>
    <payment-methods>
        <payment-method name="eps" />
    </payment-methods>
    <ip-address>10.10.245.94</ip-address>
    <notifications>
        <notification url="https://www.yourshop.at/notifications?REQUESTID=${unique for each request}"/>
    </notifications>
    <processing-redirect-url>https://sandbox-engine.thesolution.com/shop/processing.html</processing-redirect-url>
    <cancel-redirect-url>https://demoshop-test.wirecard.com/demoshop/#/cancel</cancel-redirect-url>
 <success-redirect-url>https://demoshop-test.wirecard.com/demoshop/#/success</success-redirect-url>
 <fail-redirect-url>https://demoshop-test.wirecard.com/demoshop/#/error</fail-redirect-url>
</payment>
XML get-url Response (Successful)
<?xml version="1.0" encoding="utf-8" standalone="yes"?>
<payment xmlns="http://www.elastic-payments.com/schema/payment" xmlns:ns2="http://www.elastic-payments.com/schema/epa/transaction">
 <merchant-account-id>1f629760-1a66-4f83-a6b4-6a35620b4a6d</merchant-account-id>
 <transaction-id>5d35ceae-3db2-4bc4-965d-075b68f1e6f6</transaction-id>
 <request-id>38f2ceae-7843-48f5-b059-3506b0c35376</request-id>
 <transaction-type>get-url</transaction-type>
 <transaction-state>success</transaction-state>
 <completion-time-stamp>2018-05-29T10:47:29.000Z</completion-time-stamp>
 <statuses>
  <status code="201.0000" description="The resource was successfully created." severity="information" />
 </statuses>
 <requested-amount currency="EUR">1.99</requested-amount>
 <ip-address>10.10.245.94</ip-address>
 <notifications>
  <notification url="https://www.yourshop.at/notifications?REQUESTID=${unique for each request}"/>
 </notifications>
 <payment-methods>
  <payment-method url="https://routing.eps.or.at/appl/epsSO-test/transinit/bankauswahl_prepare.html?lang=de&amp;caiSO=%2BN286OxTdZBMsBmkFBeXPBwup" name="eps" />
 </payment-methods>
 <processing-redirect-url>https://sandbox-engine.thesolution.com/shop/processing.html</processing-redirect-url>
 <cancel-redirect-url>https://demoshop-test.wirecard.com/demoshop/#/cancel</cancel-redirect-url>
 <fail-redirect-url>https://demoshop-test.wirecard.com/demoshop/#/error</fail-redirect-url>
 <success-redirect-url>https://demoshop-test.wirecard.com/demoshop/#/success</success-redirect-url>
</payment>
XML debit Notification (Successful)
 <?xml version="1.0" encoding="UTF-8"?>
<payment xmlns="http://www.elastic-payments.com/schema/payment" xmlns:ns2="http://www.elastic-payments.com/schema/epa/transaction">
 <merchant-account-id>1f629760-1a66-4f83-a6b4-6a35620b4a6d</merchant-account-id>
 <transaction-id>fb12d5d9-b372-4d33-a487-c49c7da16163</transaction-id>
 <request-id>38f2ceae-7843-48f5-b059-3506b0c35376</request-id>
 <transaction-type>debit</transaction-type>
 <transaction-state>success</transaction-state>
 <completion-time-stamp>2018-05-29T10:47:57.000Z</completion-time-stamp>
 <statuses>
  <status code="201.0000" description="eps:The resource was successfully created." severity="information"/>
 </statuses>
 <requested-amount currency="EUR">1.99</requested-amount>
 <parent-transaction-id>5d35ceae-3db2-4bc4-965d-075b68f1e6f6</parent-transaction-id>
 <ip-address>10.10.245.94</ip-address>
 <notifications>
  <notification url="https://www.yourshop.at/notifications?REQUESTID=${unique for each request}"/>
 </notifications>
 <payment-methods>
  <payment-method name="eps"/>
 </payment-methods>
 <api-id>---</api-id>
 <Signature xmlns="http://www.w3.org/2000/09/xmldsig#">
  <SignedInfo>
   <CanonicalizationMethod Algorithm="http://www.w3.org/TR/2001/REC-xml-c14n-20010315"/>
   <SignatureMethod Algorithm="http://www.w3.org/2001/04/xmldsig-more#rsa-sha256"/>
   <Reference URI="">
    <Transforms>
     <Transform Algorithm="http://www.w3.org/2000/09/xmldsig#enveloped-signature"/>
    </Transforms>
    <DigestMethod Algorithm="http://www.w3.org/2001/04/xmlenc#sha256"/>
    <DigestValue>Rd8AZaCPRazcIkC6V7b7qo3O77eO456ptbY0OG2gsKw=</DigestValue>
   </Reference>
  </SignedInfo>
  <SignatureValue>banKJSUea5M7K2DMC0jIGg3cc6VX1D0RsoIyqZ+Y1GhFPU8Ys2NAnN0MFU6tDTM7e10I9ewriOhGl6Vibc+DZPpuH66ZjDKAT03LrX1VI/dVTmC+PX3BS84Ex3jSWe+1MiQFtww5DYBiuqAUQvuNINoaIPfP+h+VjSoUiwtau97JzygAZahN26DKMNs3i8VhoFhWgjispC1xRwl9MHtnSadngsZX7pAgIoz9/bjhIr6KM5ZZRzgkwUmD3eryCHsXyIWlTMswqEWufBfOCD9Qfy5Oo8NrbCrcvHL3aj8/IelWzgnWmc3lfTZ6eSqNoSS9acW/rQkWoyKy0jilJwFY7KKO5DtAKBKeJ9JovZ2Jm5RU4riryq1PPcboZ6gFi7izC7nSDumAvCeH1BpuFv8LaKquIY9kr8Ye/XIP7mD66K4slh3eX3Eg+XnAJlhLHPfULq42bAh2B9d5269nBZWI+Fg6WbeL0EYn+G0wwHEZfCXMn2izV16lPCqdyo3VGwlYd4YhXiS1yEDbyA0WFnbQxCJOp9qsDqBmMI0hVOaJ3iOdhR8nvZx8qkvtyGCh2XOptV/Bx8Ig38nFJtOMOYI84EAj0AuFwB0KF4H9minGf2zMqhb6pujKduoL+2MiXHBqCLm/udBaiDc5A0SclQOlmMBtCYh/skbVPNJc6KueLfc=</SignatureValue>
  <KeyInfo>
   <X509Data>
    <X509SubjectName>L=Ascheim,2.5.4.4=#130642617965726e,CN=api-test.wirecard.com,OU=Operations,O=Wirecard Technologies GmbH,C=DE</X509SubjectName>
    <X509Certificate>MIIF5DCCBMygAwIBAgICLHQwDQYJKoZIhvcNAQELBQAwWzELMAkGA1UEBhMCREUxETAPBgNVBAoTCFdpcmVjYXJkMTkwNwYDVQQDFDB3aXJlY2FyZC1EUS1NVUMtaW50ZXJuYWwtd2Vic2VydmljZS1pc3N1aW5nQ0FfMDIwHhcNMTcwMTEyMTM1OTI2WhcNMTkwMTEyMTM1OTI2WjCBijELMAkGA1UEBhMCREUxIzAhBgNVBAoTGldpcmVjYXJkIFRlY2hub2xvZ2llcyBHbWJIMRMwEQYDVQQLEwpPcGVyYXRpb25zMR4wHAYDVQQDExVhcGktdGVzdC53aXJlY2FyZC5jb20xDzANBgNVBAQTBkJheWVybjEQMA4GA1UEBxMHQXNjaGVpbTCCAiIwDQYJKoZIhvcNAQEBBQADggIPADCCAgoCggIBAKSkExBY8FjRcZdrxOuJF+HZY8+McQaOB8B0E/hTUhoclsF4OJNaMThje7R6w6OYWBMKpssGngHFaZv35rCo5XVUpJmjZa04ytxE72GKO/uP4yIR7ZBXZx42B22MFaJJZTgPRCCFd6jrz906BZ//CmEAmk5gKelfPxfWJgGyTX6xz7I9R/G57E1xNOuEihN0ma5Q2IhD71MPVseFIGazyfGbJD6rYYbeBbOQSGk//TL8sdRCn0BLcm4DH5oqcPxDKzkaBP4ohNkCWsxpLLSyV6Wx0ihT0S1OLVNkEeTvcrYgUk124VyGatwWNUuCBYyOGQSOGqrW8IHmrhjzzT0NQog0/m38lpdqw/eWmt39qhODqSfILUk2Dxv1+W0IRKJCKcJrcTbXEQCuHl+XWY+U2AhinIPNRA0KX2oOgC//inwyKWSGWHdQnaake646R1wHqtoEfCtEcfyaeR+IrMr1rCAA3RZ+MH1J5UlUCWcnxPT0kad6dUwe3Qjq3jK4gaFzYU2yVScX5LVZMlWy2NiGCIvngHQmhArESzxMVvz5METZujfax6hfmiLNRWu0Zqs09Mpxy5zk5m/WRi5izb0uBeCfcA6x9pmjMx8M4OGG5RO2HTXSwLYJTKI47VXNsLLOY+nMFmhj/dkLJ5d3zI7EczToPMRHmHG7EqEdAfbb+oUlAgMBAAGjggGAMIIBfDARBgNVHQ4ECgQIS6wVIA0mJ9IwEwYDVR0jBAwwCoAIQ2weFtQ9BQ4wCwYDVR0PBAQDAgTwMIIBQwYDVR0fBIIBOjCCATYwggEyoIIBLqCCASqGgdVsZGFwOi8vd2lyZWNhcmQubGFuL0NOPXdpcmVjYXJkLURRLU1VQy1pbnRlcm5hbC13ZWJzZXJ2aWNlLWlzc3VpbmdDQV8wMixDTj1DRFAsQ049UHVibGljIEtleSBTZXJ2aWNlcyxDTj1TZXJ2aWNlcyxDTj1Db25maWd1cmF0aW9uLGRjPXdpcmVjYXJkLGRjPWxhbj9jZXJ0aWZpY2F0ZVJldm9jYXRpb25MaXN0P2Jhc2U/b2JqZWN0Q2xhc3M9Q1JMRGlzdHJpYnV0aW9uUG9pbnSGUGh0dHA6Ly9jcmwud2lyZWNhcmQubGFuL0NSTF93aXJlY2FyZC1EUS1NVUMtaW50ZXJuYWwtd2Vic2VydmljZS1pc3N1aW5nQ0FfMDIuY3JsMA0GCSqGSIb3DQEBCwUAA4IBAQAmlUoiEFPRsOjGPb7SYiuJLxqTXCvZQeuXiUydF6FQl/zIpR/zSltaZKK86L+1i7t1C89OyTTXBD9FN6EKmlHo/ulsMn9V2B4zK3lT/NUclST98BmCla4Jzm+roeOHTqlPz3gPRJiPsr3wdvM+FSAJ2MRdv3l77mTE3v3hjsVVMmShR3VwwpxCICl3mpMsSaJZLyJdOHwvnpXs1m9kESwPD3DQ3RAQ/OGa0pPxAkHaauog4DhPvr/nBQnWHd2Us5b/ep7LME9hZ8u3hu/Kc6Vk24c5p3WUOiyaTiw+Ym3QDXl1wBSl9DdM94KbmAAQ5D/FUqyQnSc4TpmYvJ+Iavag</X509Certificate>
   </X509Data>
  </KeyInfo>
 </Signature>
</payment>
Base64 debit Notification (Successful)
 PD94bWwgdmVyc2lvbj0iMS4wIiBlbmNvZGluZz0iVVRGLTgiPz48cGF5bWVudCB4bWxucz0iaHR0cDovL3d3dy5lbGFzdGljLXBheW1lbnRzLmNvbS9zY2hlbWEvcGF5bWVudCIgeG1sbnM6bnMyPSJodHRwOi8vd3d3LmVsYXN0aWMtcGF5bWVudHMuY29tL3NjaGVtYS9lcGEvdHJhbnNhY3Rpb24iPjxtZXJjaGFudC1hY2NvdW50LWlkPjFmNjI5NzYwLTFhNjYtNGY4My1hNmI0LTZhMzU2MjBiNGE2ZDwvbWVyY2hhbnQtYWNjb3VudC1pZD48dHJhbnNhY3Rpb24taWQ+ZmIxMmQ1ZDktYjM3Mi00ZDMzLWE0ODctYzQ5YzdkYTE2MTYzPC90cmFuc2FjdGlvbi1pZD48cmVxdWVzdC1pZD4zOGYyY2VhZS03ODQzLTQ4ZjUtYjA1OS0zNTA2YjBjMzUzNzY8L3JlcXVlc3QtaWQ+PHRyYW5zYWN0aW9uLXR5cGU+ZGViaXQ8L3RyYW5zYWN0aW9uLXR5cGU+PHRyYW5zYWN0aW9uLXN0YXRlPnN1Y2Nlc3M8L3RyYW5zYWN0aW9uLXN0YXRlPjxjb21wbGV0aW9uLXRpbWUtc3RhbXA+MjAxOC0wNS0yOVQxMDo0Nzo1Ny4wMDBaPC9jb21wbGV0aW9uLXRpbWUtc3RhbXA+PHN0YXR1c2VzPjxzdGF0dXMgY29kZT0iMjAxLjAwMDAiIGRlc2NyaXB0aW9uPSJlcHM6VGhlIHJlc291cmNlIHdhcyBzdWNjZXNzZnVsbHkgY3JlYXRlZC4iIHNldmVyaXR5PSJpbmZvcm1hdGlvbiIvPjwvc3RhdHVzZXM+PHJlcXVlc3RlZC1hbW91bnQgY3VycmVuY3k9IkVVUiI+MS45OTwvcmVxdWVzdGVkLWFtb3VudD48cGFyZW50LXRyYW5zYWN0aW9uLWlkPjVkMzVjZWFlLTNkYjItNGJjNC05NjVkLTA3NWI2OGYxZTZmNjwvcGFyZW50LXRyYW5zYWN0aW9uLWlkPjxpcC1hZGRyZXNzPjEwLjEwLjI0NS45NDwvaXAtYWRkcmVzcz48bm90aWZpY2F0aW9ucz48bm90aWZpY2F0aW9uIHVybD0ibWFpbHRvOmFtaXJhLnpha2lAd2lyZWNhcmQuY29tIi8+PC9ub3RpZmljYXRpb25zPjxwYXltZW50LW1ldGhvZHM+PHBheW1lbnQtbWV0aG9kIG5hbWU9ImVwcyIvPjwvcGF5bWVudC1tZXRob2RzPjxhcGktaWQ+LS0tPC9hcGktaWQ+PFNpZ25hdHVyZSB4bWxucz0iaHR0cDovL3d3dy53My5vcmcvMjAwMC8wOS94bWxkc2lnIyI+PFNpZ25lZEluZm8+PENhbm9uaWNhbGl6YXRpb25NZXRob2QgQWxnb3JpdGhtPSJodHRwOi8vd3d3LnczLm9yZy9UUi8yMDAxL1JFQy14bWwtYzE0bi0yMDAxMDMxNSIvPjxTaWduYXR1cmVNZXRob2QgQWxnb3JpdGhtPSJodHRwOi8vd3d3LnczLm9yZy8yMDAxLzA0L3htbGRzaWctbW9yZSNyc2Etc2hhMjU2Ii8+PFJlZmVyZW5jZSBVUkk9IiI+PFRyYW5zZm9ybXM+PFRyYW5zZm9ybSBBbGdvcml0aG09Imh0dHA6Ly93d3cudzMub3JnLzIwMDAvMDkveG1sZHNpZyNlbnZlbG9wZWQtc2lnbmF0dXJlIi8+PC9UcmFuc2Zvcm1zPjxEaWdlc3RNZXRob2QgQWxnb3JpdGhtPSJodHRwOi8vd3d3LnczLm9yZy8yMDAxLzA0L3htbGVuYyNzaGEyNTYiLz48RGlnZXN0VmFsdWU+UmQ4QVphQ1BSYXpjSWtDNlY3YjdxbzNPNzdlTzQ1NnB0YlkwT0cyZ3NLdz08L0RpZ2VzdFZhbHVlPjwvUmVmZXJlbmNlPjwvU2lnbmVkSW5mbz48U2lnbmF0dXJlVmFsdWU+YmFuS0pTVWVhNU03SzJETUMwaklHZzNjYzZWWDFEMFJzb0l5cVorWTFHaEZQVThZczJOQW5OME1GVTZ0RFRNN2UxMEk5ZXdyaU9oR2w2VmliYytEWlBwdUg2NlpqREtBVDAzTHJYMVZJL2RWVG1DK1BYM0JTODRFeDNqU1dlKzFNaVFGdHd3NURZQml1cUFVUXZ1TklOb2FJUGZQK2grVmpTb1Vpd3RhdTk3Snp5Z0FaYWhOMjZES01OczNpOFZob0ZoV2dqaXNwQzF4UndsOU1IdG5TYWRuZ3NaWDdwQWdJb3o5L2JqaElyNktNNVpaUnpna3dVbUQzZXJ5Q0hzWHlJV2xUTXN3cUVXdWZCZk9DRDlRZnk1T284TnJiQ3JjdkhMM2FqOC9JZWxXemduV21jM2xmVFo2ZVNxTm9TUzlhY1cvclFrV295S3kwamlsSndGWTdLS081RHRBS0JLZUo5Sm92WjJKbTVSVTRyaXJ5cTFQUGNib1o2Z0ZpN2l6QzduU0R1bUF2Q2VIMUJwdUZ2OExhS3F1SVk5a3I4WWUvWElQN21ENjZLNHNsaDNlWDNFZytYbkFKbGhMSFBmVUxxNDJiQWgyQjlkNTI2OW5CWldJK0ZnNldiZUwwRVluK0cwd3dIRVpmQ1hNbjJpelYxNmxQQ3FkeW8zVkd3bFlkNFloWGlTMXlFRGJ5QTBXRm5iUXhDSk9wOXFzRHFCbU1JMGhWT2FKM2lPZGhSOG52Wng4cWt2dHlHQ2gyWE9wdFYvQng4SWczOG5GSnRPTU9ZSTg0RUFqMEF1RndCMEtGNEg5bWluR2Yyek1xaGI2cHVqS2R1b0wrMk1pWEhCcUNMbS91ZEJhaURjNUEwU2NsUU9sbU1CdENZaC9za2JWUE5KYzZLdWVMZmM9PC9TaWduYXR1cmVWYWx1ZT48S2V5SW5mbz48WDUwOURhdGE+PFg1MDlTdWJqZWN0TmFtZT5MPUFzY2hlaW0sMi41LjQuND0jMTMwNjQyNjE3OTY1NzI2ZSxDTj1hcGktdGVzdC53aXJlY2FyZC5jb20sT1U9T3BlcmF0aW9ucyxPPVdpcmVjYXJkIFRlY2hub2xvZ2llcyBHbWJILEM9REU8L1g1MDlTdWJqZWN0TmFtZT48WDUwOUNlcnRpZmljYXRlPk1JSUY1RENDQk15Z0F3SUJBZ0lDTEhRd0RRWUpLb1pJaHZjTkFRRUxCUUF3V3pFTE1Ba0dBMVVFQmhNQ1JFVXhFVEFQQmdOVkJBb1RDRmRwY21WallYSmtNVGt3TndZRFZRUURGREIzYVhKbFkyRnlaQzFFVVMxTlZVTXRhVzUwWlhKdVlXd3RkMlZpYzJWeWRtbGpaUzFwYzNOMWFXNW5RMEZmTURJd0hoY05NVGN3TVRFeU1UTTFPVEkyV2hjTk1Ua3dNVEV5TVRNMU9USTJXakNCaWpFTE1Ba0dBMVVFQmhNQ1JFVXhJekFoQmdOVkJBb1RHbGRwY21WallYSmtJRlJsWTJodWIyeHZaMmxsY3lCSGJXSklNUk13RVFZRFZRUUxFd3BQY0dWeVlYUnBiMjV6TVI0d0hBWURWUVFERXhWaGNHa3RkR1Z6ZEM1M2FYSmxZMkZ5WkM1amIyMHhEekFOQmdOVkJBUVRCa0poZVdWeWJqRVFNQTRHQTFVRUJ4TUhRWE5qYUdWcGJUQ0NBaUl3RFFZSktvWklodmNOQVFFQkJRQURnZ0lQQURDQ0Fnb0NnZ0lCQUtTa0V4Qlk4RmpSY1pkcnhPdUpGK0haWTgrTWNRYU9COEIwRS9oVFVob2Nsc0Y0T0pOYU1UaGplN1I2dzZPWVdCTUtwc3NHbmdIRmFadjM1ckNvNVhWVXBKbWpaYTA0eXR4RTcyR0tPL3VQNHlJUjdaQlhaeDQyQjIyTUZhSkpaVGdQUkNDRmQ2anJ6OTA2QlovL0NtRUFtazVnS2VsZlB4ZldKZ0d5VFg2eHo3STlSL0c1N0UxeE5PdUVpaE4wbWE1UTJJaEQ3MU1QVnNlRklHYXp5ZkdiSkQ2cllZYmVCYk9RU0drLy9UTDhzZFJDbjBCTGNtNERINW9xY1B4REt6a2FCUDRvaE5rQ1dzeHBMTFN5VjZXeDBpaFQwUzFPTFZOa0VlVHZjcllnVWsxMjRWeUdhdHdXTlV1Q0JZeU9HUVNPR3FyVzhJSG1yaGp6elQwTlFvZzAvbTM4bHBkcXcvZVdtdDM5cWhPRHFTZklMVWsyRHh2MStXMElSS0pDS2NKcmNUYlhFUUN1SGwrWFdZK1UyQWhpbklQTlJBMEtYMm9PZ0MvL2lud3lLV1NHV0hkUW5hYWtlNjQ2UjF3SHF0b0VmQ3RFY2Z5YWVSK0lyTXIxckNBQTNSWitNSDFKNVVsVUNXY254UFQwa2FkNmRVd2UzUWpxM2pLNGdhRnpZVTJ5VlNjWDVMVlpNbFd5Mk5pR0NJdm5nSFFtaEFyRVN6eE1Wdno1TUVUWnVqZmF4NmhmbWlMTlJXdTBacXMwOU1weHk1ems1bS9XUmk1aXpiMHVCZUNmY0E2eDlwbWpNeDhNNE9HRzVSTzJIVFhTd0xZSlRLSTQ3VlhOc0xMT1krbk1GbWhqL2RrTEo1ZDN6STdFY3pUb1BNUkhtSEc3RXFFZEFmYmIrb1VsQWdNQkFBR2pnZ0dBTUlJQmZEQVJCZ05WSFE0RUNnUUlTNndWSUEwbUo5SXdFd1lEVlIwakJBd3dDb0FJUTJ3ZUZ0UTlCUTR3Q3dZRFZSMFBCQVFEQWdUd01JSUJRd1lEVlIwZkJJSUJPakNDQVRZd2dnRXlvSUlCTHFDQ0FTcUdnZFZzWkdGd09pOHZkMmx5WldOaGNtUXViR0Z1TDBOT1BYZHBjbVZqWVhKa0xVUlJMVTFWUXkxcGJuUmxjbTVoYkMxM1pXSnpaWEoyYVdObExXbHpjM1ZwYm1kRFFWOHdNaXhEVGoxRFJGQXNRMDQ5VUhWaWJHbGpJRXRsZVNCVFpYSjJhV05sY3l4RFRqMVRaWEoyYVdObGN5eERUajFEYjI1bWFXZDFjbUYwYVc5dUxHUmpQWGRwY21WallYSmtMR1JqUFd4aGJqOWpaWEowYVdacFkyRjBaVkpsZG05allYUnBiMjVNYVhOMFAySmhjMlUvYjJKcVpXTjBRMnhoYzNNOVExSk1SR2x6ZEhKcFluVjBhVzl1VUc5cGJuU0dVR2gwZEhBNkx5OWpjbXd1ZDJseVpXTmhjbVF1YkdGdUwwTlNURjkzYVhKbFkyRnlaQzFFVVMxTlZVTXRhVzUwWlhKdVlXd3RkMlZpYzJWeWRtbGpaUzFwYzNOMWFXNW5RMEZmTURJdVkzSnNNQTBHQ1NxR1NJYjNEUUVCQ3dVQUE0SUJBUUFtbFVvaUVGUFJzT2pHUGI3U1lpdUpMeHFUWEN2WlFldVhpVXlkRjZGUWwveklwUi96U2x0YVpLSzg2TCsxaTd0MUM4OU95VFRYQkQ5Rk42RUttbEhvL3Vsc01uOVYyQjR6SzNsVC9OVWNsU1Q5OEJtQ2xhNEp6bStyb2VPSFRxbFB6M2dQUkppUHNyM3dkdk0rRlNBSjJNUmR2M2w3N21URTN2M2hqc1ZWTW1TaFIzVnd3cHhDSUNsM21wTXNTYUpaTHlKZE9Id3ZucFhzMW05a0VTd1BEM0RRM1JBUS9PR2EwcFB4QWtIYWF1b2c0RGhQdnIvbkJRbldIZDJVczViL2VwN0xNRTloWjh1M2h1L0tjNlZrMjRjNXAzV1VPaXlhVGl3K1ltM1FEWGwxd0JTbDlEZE05NEtibUFBUTVEL0ZVcXlRblNjNFRwbVl2SitJYXZhZzwvWDUwOUNlcnRpZmljYXRlPjwvWDUwOURhdGE+PC9LZXlJbmZvPjwvU2lnbmF0dXJlPjwvcGF5bWVudD4=
XML get-url Request (Failure)
 <?xml version="1.0" encoding="utf-8" standalone="yes"?>
<payment xmlns="http://www.elastic-payments.com/schema/payment">
    <merchant-account-id>1f629760-1a66-4f83-a6b4-6a35620b4a6d</merchant-account-id>
    <request-id>f3170045-9e32-4f48-b1d0-f320ba672951</request-id>
    <transaction-type>get-url</transaction-type>
    <payment-methods>
        <payment-method name="eps" />
    </payment-methods>
    <ip-address>10.10.245.94</ip-address>
    <notifications>
        <notification url="https://www.yourshop.at/notifications?REQUESTID=${unique for each request}"/>
    </notifications>
    <processing-redirect-url>https://sandbox-engine.thesolution.com/shop/processing.html</processing-redirect-url>
    <cancel-redirect-url>https://demoshop-test.wirecard.com/demoshop/#/cancel</cancel-redirect-url>
 <success-redirect-url>https://demoshop-test.wirecard.com/demoshop/#/success</success-redirect-url>
 <fail-redirect-url>https://demoshop-test.wirecard.com/demoshop/#/error</fail-redirect-url>
</payment>
XML get-url Response (Failure)
 <?xml version="1.0" encoding="utf-8" standalone="yes"?>
<payment xmlns="http://www.elastic-payments.com/schema/payment" xmlns:ns2="http://www.elastic-payments.com/schema/epa/transaction">
 <merchant-account-id>1f629760-1a66-4f83-a6b4-6a35620b4a6d</merchant-account-id>
 <request-id>f3170045-9e32-4f48-b1d0-f320ba672951</request-id>
 <transaction-type>get-url</transaction-type>
 <transaction-state>failed</transaction-state>
 <statuses>
  <status code="400.1011" description="The Requested Amount has not been provided.  Please check your input and try again." severity="error" />
 </statuses>
 <ip-address>10.10.245.94</ip-address>
 <notifications>
  <notification url="https://www.yourshop.at/notifications?REQUESTID=${unique for each request}"/>
 </notifications>
 <payment-methods>
  <payment-method name="eps" />
 </payment-methods>
 <processing-redirect-url>https://sandbox-engine.thesolution.com/shop/processing.html</processing-redirect-url>
 <cancel-redirect-url>https://demoshop-test.wirecard.com/demoshop/#/cancel</cancel-redirect-url>
 <fail-redirect-url>https://demoshop-test.wirecard.com/demoshop/#/error</fail-redirect-url>
 <success-redirect-url>https://demoshop-test.wirecard.com/demoshop/#/success</success-redirect-url>
</payment>
Query Result
XML debit Payment Query Result
<?xml version="1.0" encoding="UTF-8" standalone="yes"?>
<payment xmlns="http://www.elastic-payments.com/schema/payment" xmlns:ns2="http://www.elastic-payments.com/schema/epa/transaction" self="https://api-test.wirecard.com/engine/rest/merchants/184bcc34-82ea-4f67-94d6-dc782ab86da3/payments/1e12e5ef-2ebe-4b46-962d-d93ae51a2a07">
    <merchant-account-id ref="https://api-test.wirecard.com/engine/rest/config/merchants/184bcc34-82ea-4f67-94d6-dc782ab86da3">184bcc34-82ea-4f67-94d6-dc782ab86da3</merchant-account-id>
    <transaction-id>1e12e5ef-2ebe-4b46-962d-d93ae51a2a07</transaction-id>
    <request-id>${get-url request-id}</request-id>
    <transaction-type>debit</transaction-type>
    <transaction-state>success</transaction-state>
    <completion-time-stamp>2018-04-20T11:55:54.000Z</completion-time-stamp>
    <statuses>
        <status code="201.0000" description="The resource was successfully created." severity="information" provider-transaction-id="209991804202AIL-00DCH62Y5QXC"/>
    </statuses>
    <requested-amount currency="EUR">1.990000</requested-amount>
    <parent-transaction-id>${get-url-transaction-uuid}</parent-transaction-id>
    <account-holder>
        <first-name>Karl</first-name>
        <last-name>Netzzahler</last-name>
    </account-holder>
    <notifications>
        <notification url="https://www.yourshop.at/notifications?REQUESTID=${get-url request-id}"/>
    </notifications>
    <payment-methods>
        <payment-method name="eps"/>
    </payment-methods>
    <bank-account>
        <iban>AT302099900001123488</iban>
        <bic>SPBAAT20XXX</bic>
    </bank-account>
    <processing-redirect-url>https://sandbox-engine.thesolution.com/shop/processing.html</processing-redirect-url>
    <cancel-redirect-url>https://sandbox-engine.thesolution.com/shop/cancel.html</cancel-redirect-url>
    <fail-redirect-url>https://sandbox-engine.thesolution.com/shop/error.html</fail-redirect-url>
    <success-redirect-url>https://sandbox-engine.thesolution.com/shop/success.html</success-redirect-url>
</payment>